If your child is planning to attend summer school and will need bus transportation please let the front office know by Thursday, 5/20/21.

All iPads, Chromebooks, Laptops and chargers need to be turned in on Wednesday.!!
The Princioal's and Superintendent's Honor roll trip for grades 7-12 is tomorrow. We will leave at 8:30am and return around 5:30pm. We will go to the Tulsa Drillers game and lunch will be provided. Students may want to bring a rain jacket as the game will be played unless it is a downpour and there is a chance of light rain. Grades 7 and 8 will have permission slips to return. HS students will not have permission slips.
If you have an internet hot spot or device that was checked out from school, those need to be turned in by this Thursday. If they will be needed for summer school, they will be reissued next week. Thank you.

Yearbooks that were pre-ordered have been handed out to students. If you did not pre-order yearbooks are on sale for $40.00 now. There is a limited supply. Contact Cynthia in the front office if you wish to purchase one. We take credit card by phone if you wish to pay that way.
Elem Awards assemblies tomorrow in Act Center. Grades 1-2, 9am. Grades 3-4 10 am, Grades 5-6 11am. Grades 7-8 at 1pm
Reminder, Awards assembly for grades 9-12 today at 10am in gym.
Junior class students remember that you need to have your 12 cookbooks sold and have the $144 turned in to school by Monday, May 17th. Please make every effort to sell all 12 of your allotted cookbooks. All proceeds go to your class account.

We will have Baccalaureate services May 16th @ 7 p.m. We will have refreshments and it will be held in the cafeteria.


Updated bracket for State Softball games. Games will be played tomorrow at Firelake in Shawnee.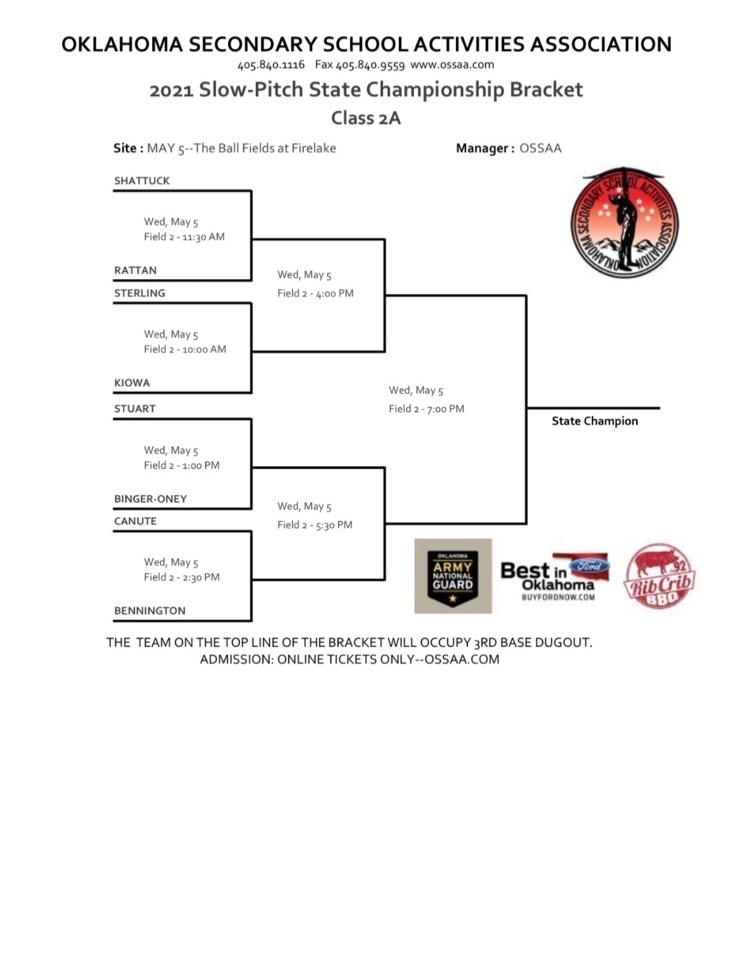 The State Tournament has been postponed until tomorrow due to field conditions. All tickets purchased today will be honored tomorrow. They will play the entire tournament tomorrow so we will be virtual again tomorrow. Sorry for the inconvenience. The new bracket will be on our school Facebook page and website when it is released.
Tickets for the State Softball games at Shawnee Fire Lake Complex must be purchased online. Go to
www.ossaa.com
and at the bottom left of the home page is a red box to click slow pitch state tickets. That link will take you where you need to go. Have a great day!
The Stuart Lady Hornets will be playing in the State Tournament Tuesday at 11:30 am at Fire Lake complex in Shawnee. We will have a virtual day on Tuesday to allow students and staff to be on hand to cheer them on. If we win 2 games Tuesday, the finals will be Wednesday in OKC. We will send out another message if we are in the finals about whether we will be virtual or in person on Wednesday. State tournament tickets must be purchased online. Go to our school Facebook page for instructions.

As a precaution students were evacuated to the safe room due to a tornado warning in our area. Again this is just a precaution.

We will be using snow days 4/29 & 4/30. There will be NO school on Thursday and Friday of this week!

Pre-K & Kindergarten will be going to the Oklahoma Aquarium on May 7th. The bus will leave @ 8:30 am and will leave the Aquarium at 1:30 pm. They will be dismissed from school as normal. Lunches will be provided.

Sorry for any inconvenience, but due to the possibility of inclement weather on Wednesday, PK-7th grade JOM & Indian Ed trip to the zoo will be TOMORROW. IF you have ordered tickets, you may call the zoo and change the date or take your tickets to customer service at the zoo tomorrow. We will leave the school at 9:00, arrive at CiCi's Pizza in Midwest City at 11:00, check in at the zoo at noon, and return to the school at 5:00. Thank you for your patience as we try to arrange the best experience for our students.

Parents of PK-7 who want to attend the JOM and Indian Ed field trip to the Zoo on April 28th, will need to purchase tickets in advance online.

Due to weather, the PK- 7th grade JOM & Indian Ed trip to the OKC Zoo has been rescheduled for next Wednesday, April 28th.