ENROLLMENT INFORMATION: Pre-K: June 7th, June 8th, and June 9th from 8 am to 3 pm. Please bring your child's CDIB (if your child has one), shot records, birth certificate, and social security card. Elementary: June 14th - June 17th from 8 am to 3 pm. June 21st - June 24th from 8 am to 3 pm. You may come by the Library during these times to pick up an enrollment packet or you may take the time to fill one out while you are here. High School enrollment is TBA at a later date in July.

Senior Trip - Six Flags

Senior Trip - SeaWorld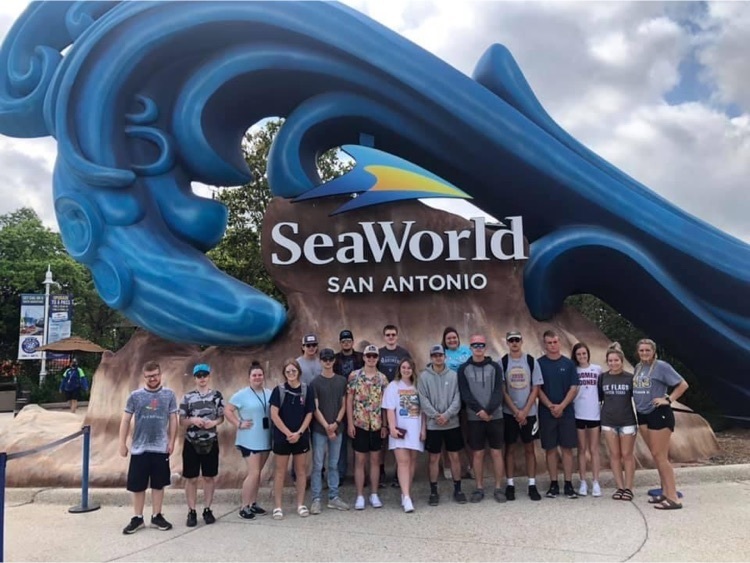 Dinner on Senior Trip at the Hard Rock Cafe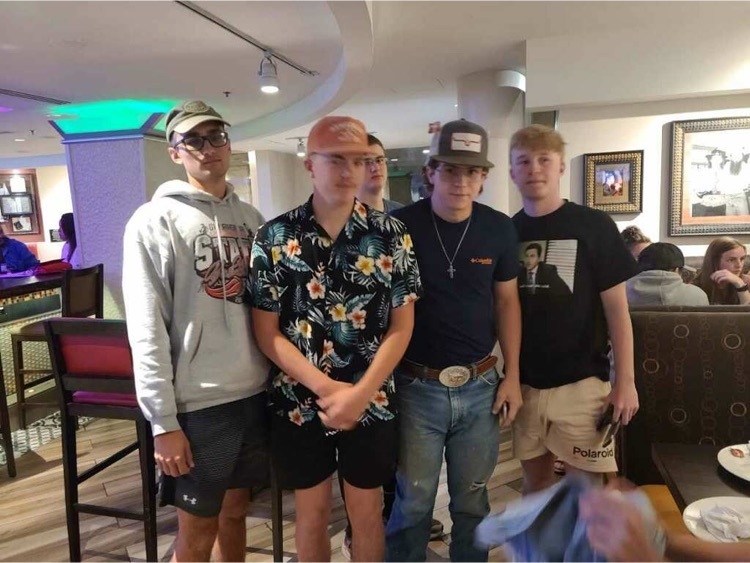 If you have any laptops, chrome books, or iPads checked out from the school, they need to be brought back TODAY! If you were not at school today, please make arrangements to return them to us today.

We have sold out of this years yearbooks, but we have made an order of 10 more with 4 already spoken for. IF you want one of the remaining 6, please contact the office as soon as possible. The extra order should arrive in 2-3 weeks.

If you have not purchased a yearbook this year we have 5 left. They are $40.00. If you did not purchase a yearbook from last year we have 6 left, which are on sale for $20.00. Please contact the front office if you would like to purchase one of these.

The following dates show May and June activities for Junior High Boys. The basketball days are set and the baseball times will be set at a later date ( Coach Homer will provide). May 27 Practice TBA May 28 Pleasant Grove @ PG (Shawnee) 5:30 pm June 1 Seminole Camp One Day Three Games June 8 @ Stuart 10 am June 10-11 Tecumseh Team Camp 6 Games June 17 Calvin @ Stuart 7th-8th-9th June 18 Pleasant Grove @ PG ( Shawnee) TBA

If your child is planning to attend summer school and will need bus transportation please let the front office know by Thursday, 5/20/21.

All iPads, Chromebooks, Laptops and chargers need to be turned in on Wednesday.!!
The Princioal's and Superintendent's Honor roll trip for grades 7-12 is tomorrow. We will leave at 8:30am and return around 5:30pm. We will go to the Tulsa Drillers game and lunch will be provided. Students may want to bring a rain jacket as the game will be played unless it is a downpour and there is a chance of light rain. Grades 7 and 8 will have permission slips to return. HS students will not have permission slips.
If you have an internet hot spot or device that was checked out from school, those need to be turned in by this Thursday. If they will be needed for summer school, they will be reissued next week. Thank you.

Yearbooks that were pre-ordered have been handed out to students. If you did not pre-order yearbooks are on sale for $40.00 now. There is a limited supply. Contact Cynthia in the front office if you wish to purchase one. We take credit card by phone if you wish to pay that way.
Elem Awards assemblies tomorrow in Act Center. Grades 1-2, 9am. Grades 3-4 10 am, Grades 5-6 11am. Grades 7-8 at 1pm
Reminder, Awards assembly for grades 9-12 today at 10am in gym.
Junior class students remember that you need to have your 12 cookbooks sold and have the $144 turned in to school by Monday, May 17th. Please make every effort to sell all 12 of your allotted cookbooks. All proceeds go to your class account.

We will have Baccalaureate services May 16th @ 7 p.m. We will have refreshments and it will be held in the cafeteria.


Updated bracket for State Softball games. Games will be played tomorrow at Firelake in Shawnee.