News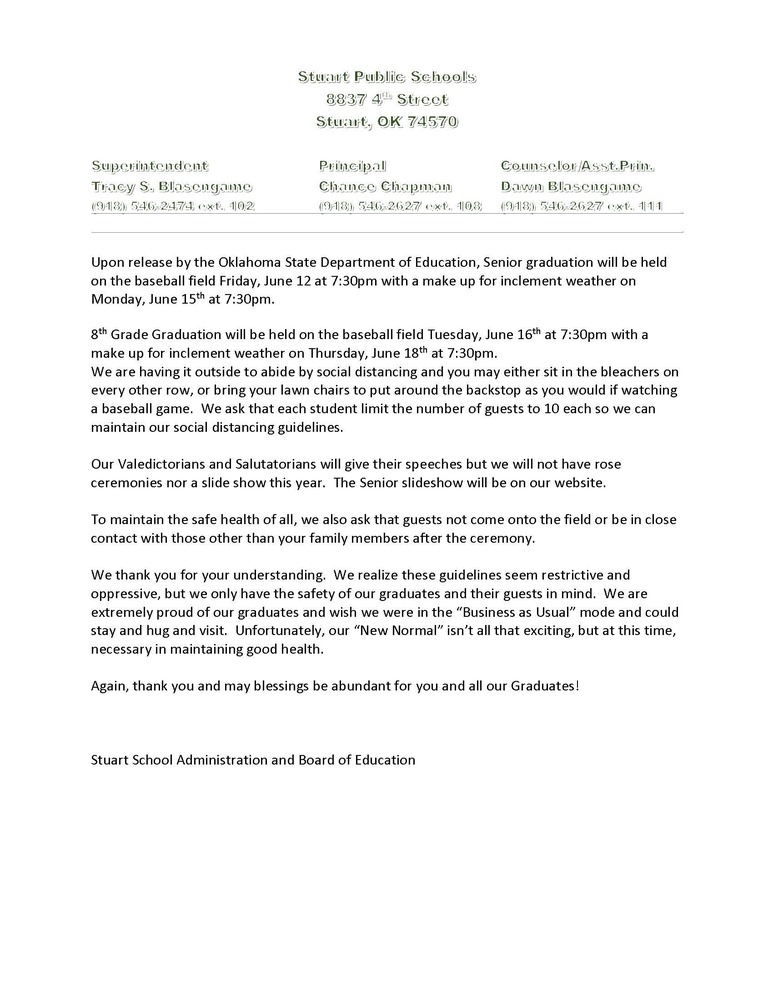 Stuart Public Schools 8837 4th Street Stuart, OK 74570 Superintendent Principal Counselor/Asst.Prin. Tracy...
Parents and Students, Mrs. Mabray would like everyone to know that with this web address and log in, there is FREE online AR books!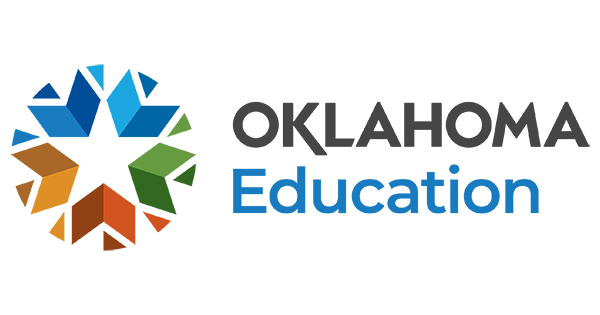 Below are some links from OSDE for Teachers and Parents to access. Oklahoma Resources for Distance Learning - https://sde.ok.gov/distancelea...Distance Learning and...
SEE ALL NEWS
Events
Thu, May 28 , 8:00 AM - 3:00 PM
Fri, May 29 , 9:00 AM - 3:00 PM
Tue, Aug 18 , 12:00 PM - 1:00 PM
SEE ALL EVENTS
LIVE FEED
Tracy Blasengame
6 days ago
Dear parents of 8th grade and Senior graduates. We realize that limiting tickets to 10 may cause some family members to be short. We also realize that some people may not need all 10 of their tickets. If you do not need all 10 of your tickets, or if any graduate plans on not attending, Please let us know at school so we can Lottery them out to families who might need more. If you need more, please let us know that as well. The office is staffed Tuesday, Wednesday, and Thursday from 8 a.m. to 3 pm. Thank you for your help with this matter.
Tracy Blasengame
10 days ago
Anyone who bought prom tickets may get their money returned when picking up personal items from Student lockers. Also, if you rented a tux from Mark Emmons, get in touch with his studio for refunds.
Tracy Blasengame
10 days ago
Yearbooks are on sale now. They are $35 each and should be in on June 3rd. After June 1st, we will be allowing parents to pick up personal items from student lockers. You may purchase your yearbooks then. We are able to take credit cards either in person or over the phone for a $1 surcharge.

Cynthia Myskey
10 days ago
CORONOVIRUS/COVID-19 FAQs

Cynthia Myskey
10 days ago
We know that this is a challenging time for students—staying home from school away from friends is a significant change in their routine that can make them feel disconnected. Girl Scouts of Eastern Oklahoma is fortunate to be able to continue offering the same quality programming to girls, volunteers, and families virtually for at-home enrichment experiences. I invite students to stay connected with our new "Girl Scouts at Home" catalog at gseok.org/athome! We have added virtual badge activities, programs, and resources for girls and families to engage with from home. These are all available to the public for free—no Girl Scout membership necessary.
At Girl Scouts, girls grow their academic success, develop new talents, and explore their passions. By promoting skills like critical thinking, problem solving, and collaboration, Girl Scouts sets girls up for powerful futures. Partnering with Girl Scouts of Eastern Oklahoma means providing a high quality, girl-centered, and girl-led experience for tomorrow's leaders and change-makers right at your very own school. Please visit our Girl Scouts' Academic Edge tool to review results on success girls achieve with Girl Scouts: https://www.whygirlscouts.org/academic-edge/p/1
SEE ALL POSTS