The Book Fair is Here!! It will be set up in the Library all week. ! Monday- Thursday 7:30-3:00 Friday 7:30-12:00
Tomorrow's games at Calvin will begin at 12:45 p.m. with the third and fourth grade girls game. The third and fourth grade teams will return to school and ride the bus home in the afternoon. The 5th and 6th grade teams will begin around 2:30 p.m. and will return to school around 3:30pm. The 7th and 8th grade play at 4pm and their bus will return Monday evening around 6pm.

Notice to students who participated in Mrs. Lindley's Dance Camp, the game they were scheduled to perform at tomorrow night, December 3rd has been moved to December 19th. So they will perform their dance on December 19th at half time of the boys game. We will still have Dance Camp as scheduled to day after school. Sorry for any inconvenience.

REMINDER: Thanksgiving Break begins tomorrow, 11/22/19. We will NOT be in school tomorrow, 11/22/19. We will be returning on 12/2/19! We hope everyone has a Wonderful Thanksgiving Break!!!!

Moss School has canceled the Elementary games ( 3rd-6th grades) scheduled with us for 11/20/2019. We have picked up Dewar to play us that day but it is ONLY for the 5th & 6th grades. Games will start at 10 a.m. on 11/20/2019.
Kindergarten RADA fundraiser order forms are due tomorrow November 12th.

Our JH Hornets and Lady Hornets begin the Stonewall Tournament tomorrow 11-11-2019. Good luck to them this week! 🐝💚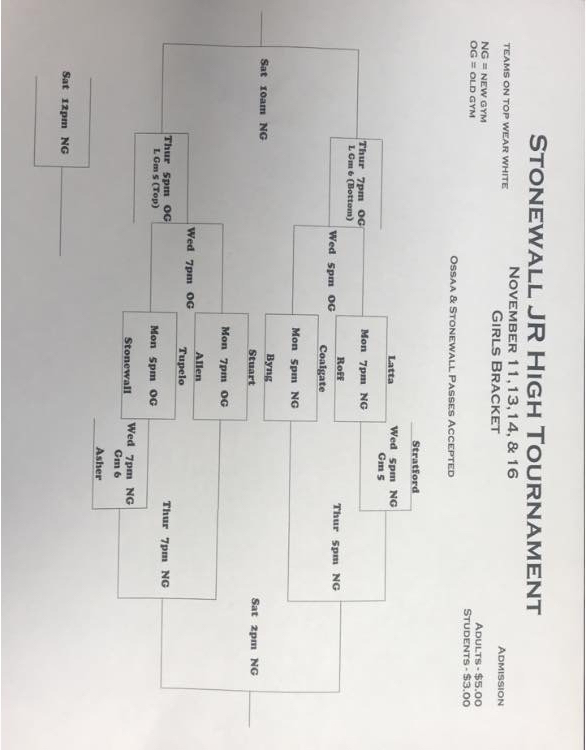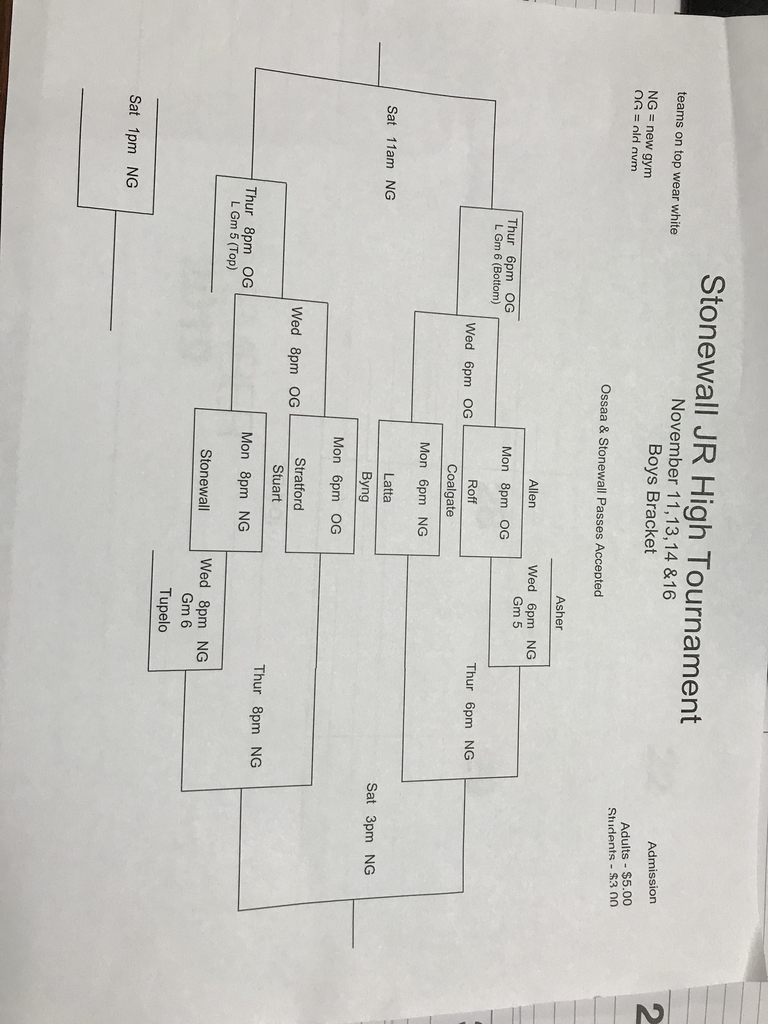 Our Veteran's Day program is tomorrow at 12:30 in the gymnasium. Everyone is welcome. Students, faculty, and staff are encouraged to wear red white and blue as we honor our veterans.

Reminder: Tomorrow, the 3rd, 4th, and 5th grade classes will be going to the Philharmonic in OKC. They will be leaving first hour and returning before school let's out.
Just a reminder that all winter sports and clubs and organization pictures will be tomorrow.

Reminder: " Walk for a cure" donations are due by Wednesday. $5 donation to participate.

The Sports and Organization pictures along with retakes have been postponed for today and rescheduled for Friday 11/1/2019.

Report cards will be sent home today. Be sure to check them as some teachers require them to be signed and turned back in. Also a reminder that tomorrow is Sports and Organization pictures. We will also offer retakes for fall pictures tomorrow for those who missed or didn't like their original picture. IF your child wishes for retakes because they didn't like the first ones there is a $5 due at time of pictures.
Reminder that grades 3 through 12 basketball team pictures are this Thursday, October 24th.
Our 5th-6th grade girls play tonight at 7:15pm at Justice. Bus leaves at 5:30pm. Tomorrow, the 3rd-4th grade girls play at 11:45 and the 3rd-4th boys at 12:15. They will return to school before school is out. The 5th-6th boys play tomorrow night at 8pm. The bus will leave school at 6:30pm. for those who need a ride.
We have a change in plans for 3rd and 4th grade basketball today. They will be back to ride the bus home today. 5th and 6th grade will not as they play after school. All students will be bused to and from Justice and the third and fourth grade will be back to school to ride the bus home this afternoon.

Red Ribbon Week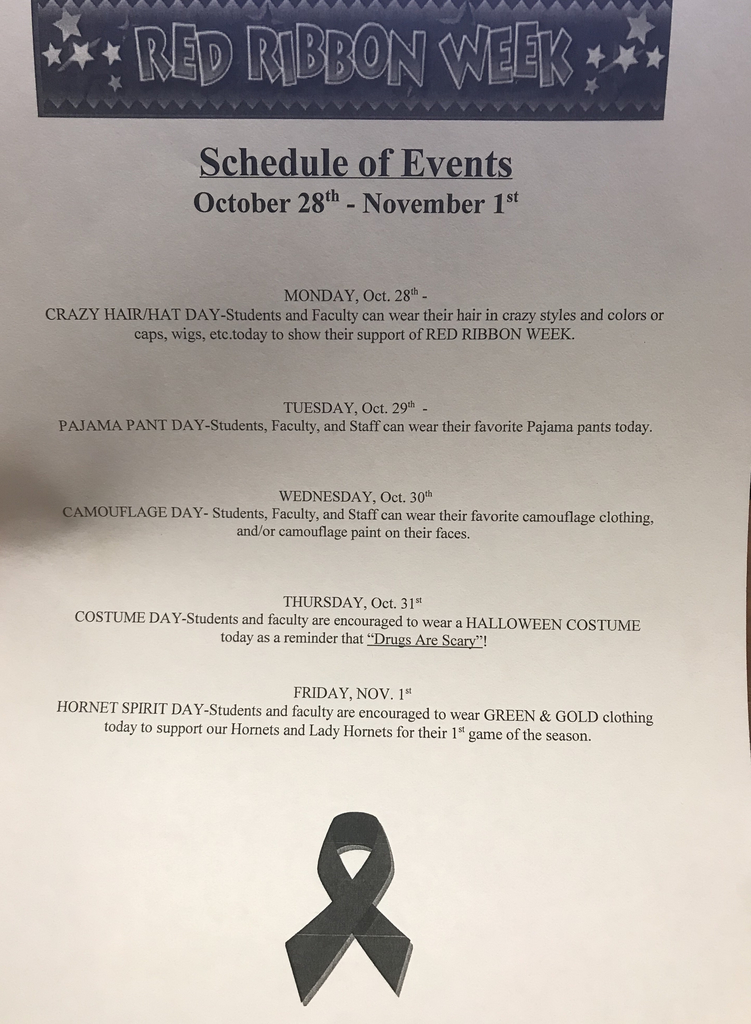 Just a reminder that today is the last day that students are able to wear shorts and open-toed shoes or flip-flops. They may continue to do so after spring break. Thank you and have a great fall break!

REMINDER: The school carnival will be tomorrow, 10-15-2019 from 6:00 pm until 9:30 pm. The carnival will take place as usual unless it rains. In the case of it raining we will bring the carnival indoors. Also the Literary Pumpkins will be auctioned at 8:00 pm. Please take the time to vote for your favorite pumpkin!!

Just a REMINDER, the Choctaw Nation will be at the school Monday, 10/14/2019 from 9 am until 12 pm giving flu shots. If you want your child to receive the shot make sure you have your permission slip turned in.