Our Lady Hornets qualified for the State Softball Tournament this week in OKC. The 1st game is at 11:00 am Thursday, October 6. We will be dismissing school Thursday and Friday to allow teachers, staff and students to attend and cheer them on to a State Championship. The tournament bracket and all info for admission and bag requirements are listed on our website and school Facebook page. Again, there will be no school this Thursday and Friday, Oct. 6th & 7th.


The Regional Softball Tournament has moved to the Complex. Verden will play Leflore at 1pm with Stuart playing the winner immediately after that game. You may pay $10 at the gate or buy tickets on the GoFan app for Day 2 Softball Regional at Stuart.
Water issues have no effect on Baseball Regional Tournament at Tupelo. Our boys will play as scheduled.
The town of Stuart has a major water line break and there is no water at school. We will have NO SCHOOL today. We will keep you informed on the the status of the regional softball tournament. Sorry for the short notice and inconvenience.

We have just been informed by OSSAA that we can sell tickets for the Softball Regional tournament at the gate. All tickets purchased on site will be sold for $10 (per OSSAA regulations).

Scrimmages for HS boys basketball: 10/18 vs Tupelo 10/24 vs Wapanucka 10/26 vs Ft. Townsend ALL will be played at Stuart.

Softball and Baseball Regionals will be played beginning this Thursday, 9/29. Softball will be played here at Stuart and Baseball will be played at Tupelo. OSSAA requires all tickets be purchased online. There will be NO sales at the gate at either tournament. You can purchase tickets by going to the GOFAN app or searching GOFAN on your phone and then searching for the school that will be hosting. (Girls you will search for Stuart and boys you will search for Tupelo.) You can then click on purchase ticket. Tickets are $7.00.

REMINDER: Fall Pictures will be tomorrow for ALL grades. Have your children dress accordingly as these will go in the yearbook.

See You at the Pole will be tomorrow morning at 7:40 in the front of the school. Breakfast will be provided. We hope to see you there!!!!

The JOM meeting scheduled on September 27th 2022 will now be held at 4 p.m instead of 7.

The situation with the school close to our area has been resolved. Stuart will resume operation as normal at this time.
There is no immediate threat to Stuart School. However, due to an Emergency situation being investigated by law enforcement at a school in our area, and to ensure the safety of all our students, Stuart Schools will keep all students inside today, with all classes held inside the main school building and all outside entrances will be locked as usual. If you need to come to school, the procedure is the same as usual. Ring the buzzer at the front door and someone will let you in upon identifying who you are. Again, there is no threat here, we are simply taking every precaution to keep everyone safe. Thank you.

Tickets for District Softball and Baseball games will be $5 at the gate. Softball games are today, 9/21/22 beginning at 12 pm. Baseball games are Thursday, 9/22/22 beginning at 12 pm.

FALL BASEBALL DISTRICT SCHEDULE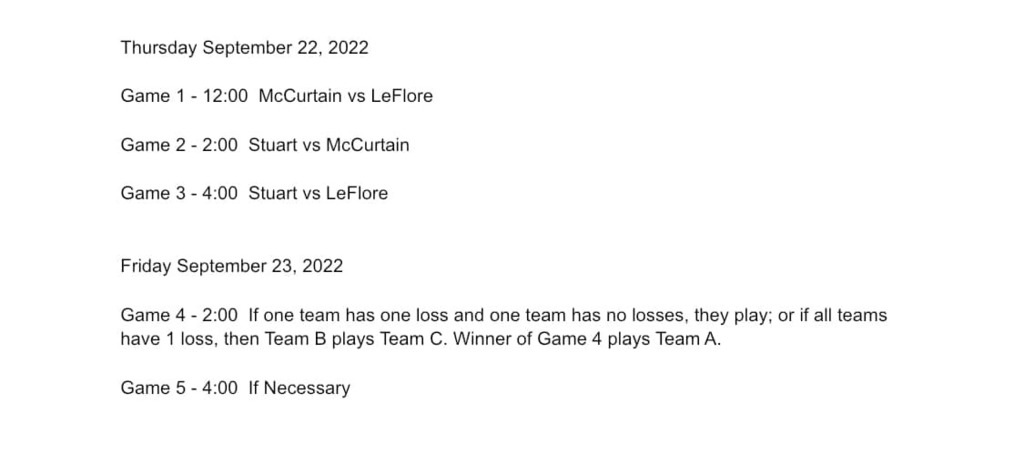 FASTPITCH SOFTBALL DISTRICTS SCHEDULE.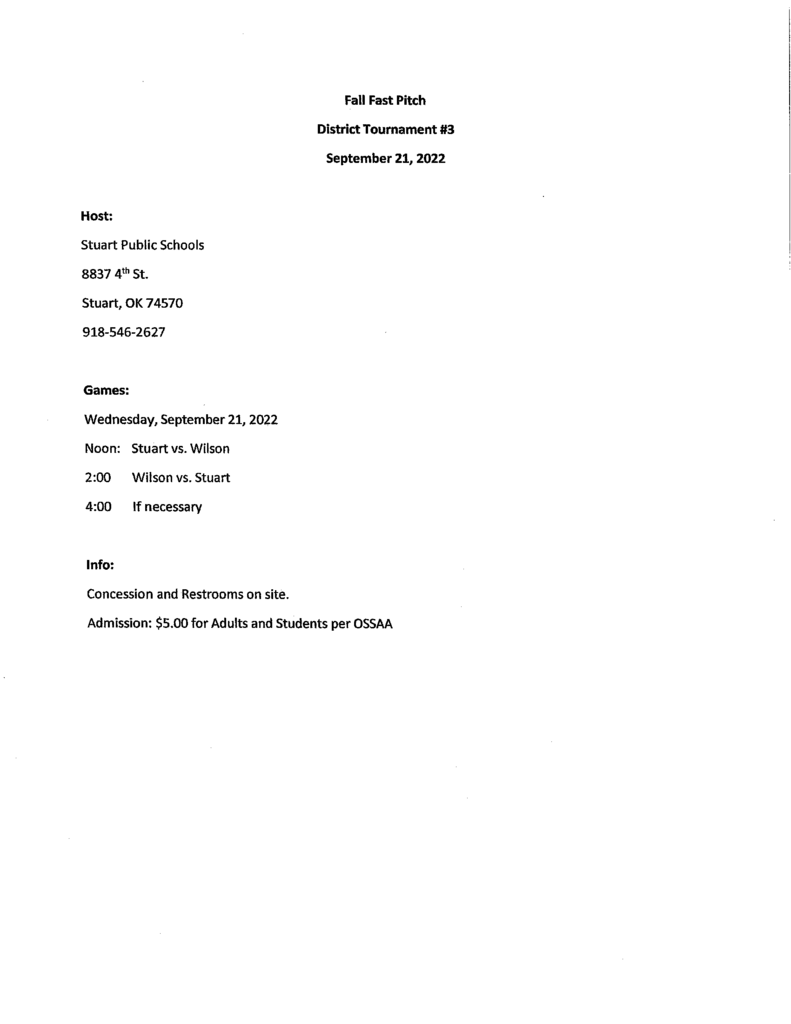 Tonight's School Board Meeting has been rescheduled to this Thursday 9/15 at 7pm.

You can now pick up your 21/22 Yearbook in the front office!! The cost will be $35 if you pay by cash or check. We can take a debit/credit card for an additional fee.
This Thursday, a roofing company will be working at school. The parking area in front of the school will be roped off as there will be overspray as they clean the roof. The area beside the rail out front will be left open for parents or visitors to park, or if that is full, you may park in student parking across from the school or to the northwest of the gym.