Our 5th and 6th Grade Hornets play Basketball in the Hartshorn Tourney tomorrow with the girls playing at 11:30 and the boys at 12:15. If they win, they will play in the Championship Thursday with the girls game at 5:15 and the boys at 6:00pm. The 3rd and 4th Grade teams play in the championship Thursday with the girls game starting at 3:45 and the boys at 4:30pm.

We will be extending the Yearbook orders through Wednesday 10/9/2019. If you want to order one and have not turned in your form please do so before next Wednesday.

The 3rd - 6th grade Basketball bus, Monday 10/7/2019,will not be back from the games before the route buses leave. The bus should arrive back at the school around 3:30, so students need to make arrangements to be picked up @ that time if not going with parents from the game.
Attn: Seniors and Parents of Seniors!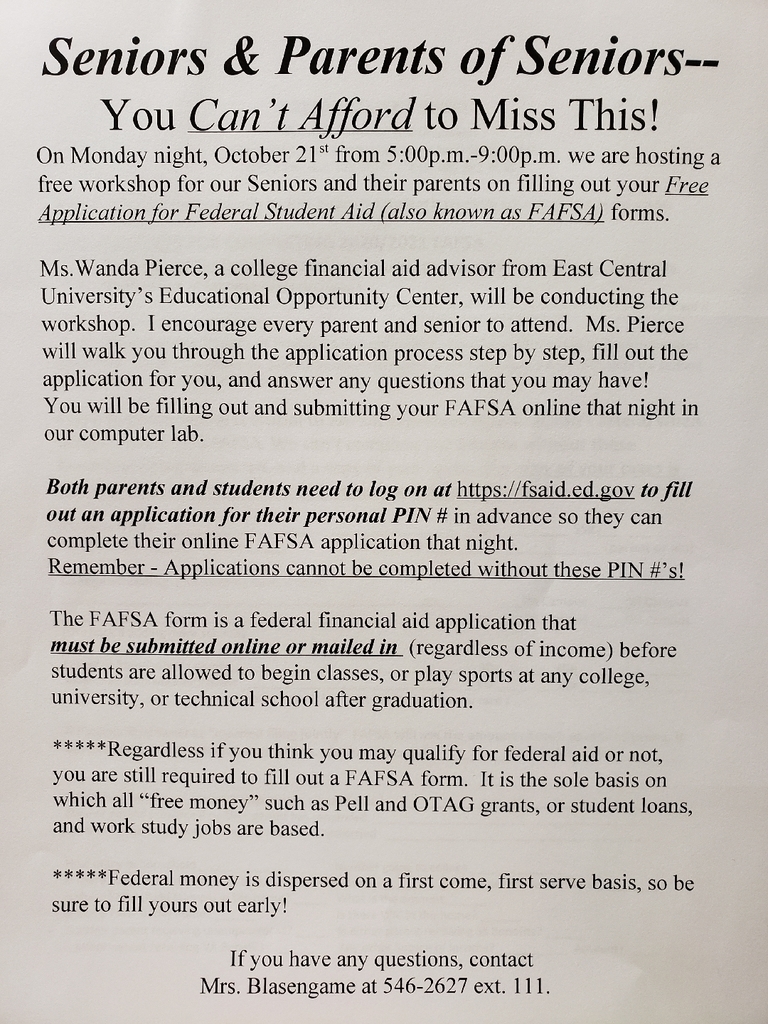 The Elementary Basketball games that were scheduled for Thursday, 10/3/2019 have been canceled.
Our Lady Hornets softball team will be playing in the Regional Tournament at Morrison on Thursday at 1pm. We will be cancelling school on Thursday as we have over 20 staff and several students who wish to attend and because it is a 2 1/2 hour trip to Morrison. If we have a minimum of 20 students in grades 7-12 who want to ride a fan bus, we will take one. Admission to the games is $5 and students would need money for concessions as well as meals. The bus could be back as late as 10pm that evening. Students will need to sign up for the fan bus tomorrow. Space is a first come first serve basis as seats are limited.

REMINDER... Parents yearbook pictures are tomorrow, 10/2/2019. Please be sure your child is here if at all possible. Also remember the year book pre-order deadline is 10/3/2019. If you need a form to order contact the office. You can also pay by credit card with the website link:
http://link.entourageyearbooks.com/viewaccount.asp?=2711F0C6-FC6C-4B22-8FF0-971DE8161EFC
SOFTBALL REGIONAL TOURNAMENT will be October 3-4 at Morrison High School.
High School Softball will play tomorrow at McCurtain at 5:30pm.

Yearbook pictures will be next Wednesday 10-2-2019. Please be sure that your child is here if at all possible.
Our Stuart Hornets Baseball fell short in their bid to win a Class A District Championship yesterday. We are very proud of their accomplishments this season and want to thank all those who come out to support them! Go Hornets!
The 4th and 5th graders will leave at 7:30 a.m. for their field trip. Lunch will be provided but they will need to eat breakfast at home.
Stuart Lady Hornets are District Champs! Defeated Weleetka 13-2, Wetumpka 10-6 and 18-0. Thanks to all those who came out to support our Lady Hornets!

The 2018/2019 Yearbooks are now available to pre-order. We will be accepting cash, check, and credit card. If you do not wish to pay by cash or check, the link to go to is,
http://link.entourageyearbooks.com/view_account.asp?l=2711F0C6-FC6C-4B22-8FF0-971DE8161EFC
. We will also post this link on our website in the news section. This link is the ONLY way to pay by card! If you wish to pay by check or cash please come by the school to take care of this. We will be sending an order form home with the kids tomorrow. The last day to pre order is 10/3/2019.

We still have some Fall Softball and Fall Baseball tournament T-shirt's. We are selling them for $5 each! We have sizes small through XL.. You can contact the office to inquire about a specific size! Thanks for supporting your Hornet and Lady Hornets!

We will be selling ads for senior students this year. The seniors will be bringing home a letter today explaining the details. Please feel free to contact the office with any questions.

We will be sending fall sports pictures home with the kids today!!

HS baseball will start at 430 today

There will be no JH baseball game today. McCurtain did not have enough players to play.. Sorry for any inconvenience.
Last call for Playoff T-Shirt orders! Shirts have the girls and boys names & #'s on back. Contact the main office by 11:00 a.m. if you would like to place an order. No extra quantities will be available.
Hornet Softball & Baseball Playoff Roster T-Shirt orders are due by 9:00 a.m. Monday morning. The cost is $15 sizes YM-AXL & $17 for sizes 2X- 4X. Contact Stuart School to place your order. Order yours today & show off your Hornet Pride!